2023

Summer Reading Program

!
Image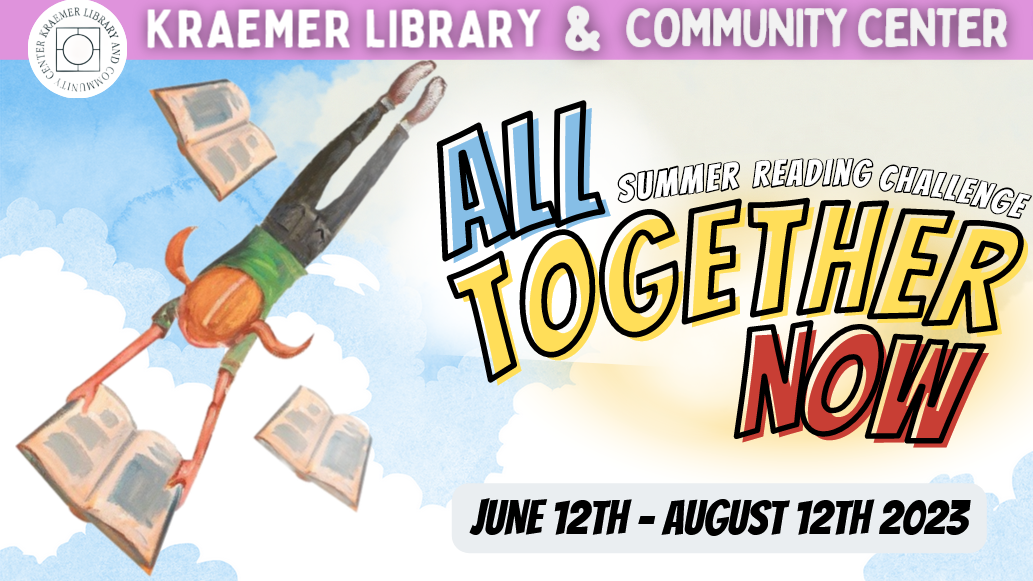 WELCOME TO SUMMER READING!
Readers of all ages can participate in this summer reading challenge, "All Together Now," 2023 Summer Reading Program. All readers can start registering the week of June 5th, and the Reading Challenge logging begins June 12 and will run through August 12. Kraemer Library will have a kick-off summer reading program event on Monday, June 12 at 1:00 p.m. with a performance by Zoozort Live Animal Show sponsored by the Friends of the Kraemer Library.
Reading challenges:
Image

Image

TEEN (ages 11-19)                                                                                                ADULT (18+)
Challenge of 1 Book per week (9 books).                                            Challenge :Join us this summer by reading a                       Extra prize entry per week earned by attending a                         Book per week, starting June 12, for your chance to win   program.                                                                                                                a  prize packet of gift certificates to local business  in  OR                                                                                                                             Plain. For each book you read you get one entry to the  Reading double the Books (2 books) per week.                                       grand prize drawing with a limit of eight entries. paper     Paper Logs available at front desk starting June 7.                                Logs available at front desk starting June 7.
Sign-Up starting June 5th!
Image

Visit the Library for reading logs beginning June 7th. All logging starts June 12th.
WHY SUMMER READING?
Educational studies have shown that the summer reading program has positive effects on students in that voluntary reading correlates with high levels of reading achievement, increased comprehension, and prevents a student's academic 'summer slide' and counters learning loss.
Here are some additional benefits of having students enroll in the summer reading program:
Young children will gain self-confidence and a love for reading, books, and the library.
The groundwork will be laid for children to become lifelong readers and learners.
Entire families will have the opportunity to participate in age-appropriate summer reading events.
Completion of the program will give children a sense of accomplishment and belonging.
Parents and caregivers will gain knowledge about early literacy and learning activities at the library that they can continue at home.
The library becomes a community destination for more families during the summer.
End of the Summer Prize Packs!
Enter your earned tickets into our raffle prize packs drawn at the end of the summer. All entries must be in the library by August 12th for the drawings. One winner per prize pack.
Childrens Prize Packs
                      + Mario Pack
                      

+ Pokemon Pack
                      +

Squishmallow

Pack
                      + Arts and Craft Pack
                      + Family Games Pack
                      + Community Helpers Pack
Teen Prize Packs:
           +Teen Games Pack
                      + Music Prize Pack
                      + Roblox Prize Pack
Summer Reading Programs and Events!
For more information about Kramer Library's All Together Now Summer Reading Program events, visit the library at kraemerlibrary.org or our Facebook events page. All programs are free. Registration is required for most events, and performers are restricted by a room capacity limit of 125.
Image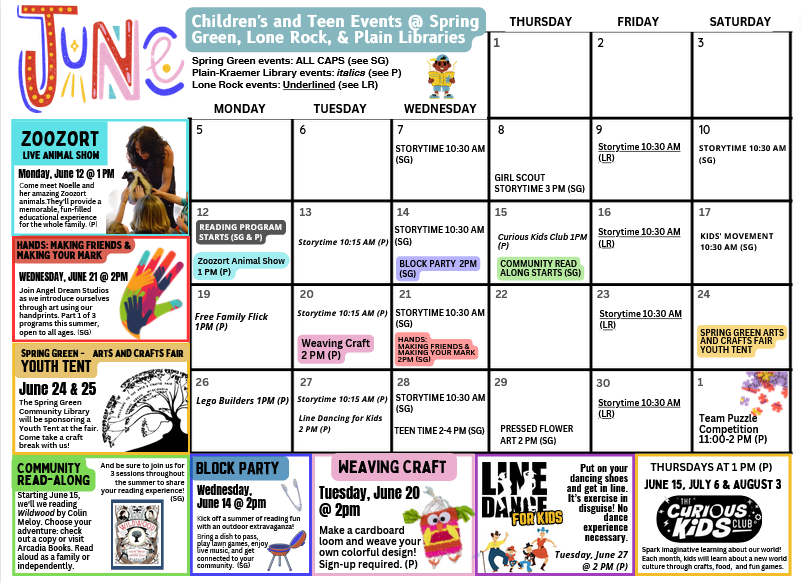 Image