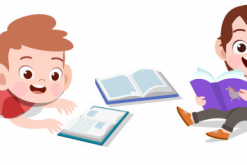 Welcome to Kramer Library's Children's Area.
Explore Kraemer Library's Virtual Children's Room.
Click on the Image to be transported to our virtual children's library on Google Docs. The link to new books read-alouds, and other fun themed activites can be found by clicking on items in the room and following their link
Children's Collection
Explore our Children's collection that targets children ages Baby to Pre-Teen. Helpful themed lists are linked below to get you started on subjects you would like to explore in our library or through our catalog!