PLEASE CHECK FOR UPDATES REGULARLY!!
UPDATE 10/29/2020: We are contiuing to offering curbside pickup service for items currently on our shelves while we are open.
Staff will fill your holds as quickly as possible. Thank you for your patience.
STEP ONE: Place your items on hold.
• Use our website, www.kraemerlibrary.org, to search the library catalog or use the link https://pla.linkcat.info/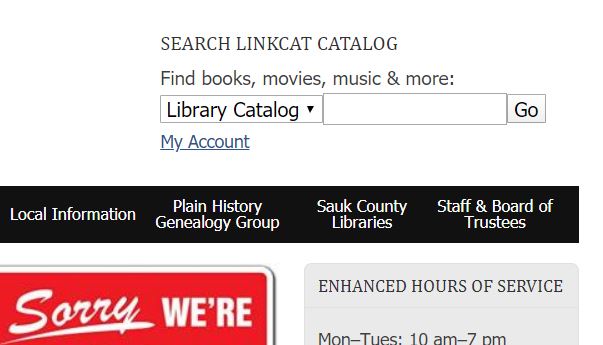 Call us at 608-546-4201 between 10 am and 5 pm Mondays through Fridays and we will place your holds for you.
• You will be notified via an automated email, text, or phone call when your order has been pulled.
STEP TWO: Call the library and tell us you're ready to pick up.
• After you receive notification, call us at 608-546-4201 to schedule a pick up. Phones are currently answered 10 am until 5pm, Mondays through Fridays. Available pick up times are 10 am -5 pm Monday through Friday.
• Staff will check your items out to you and place them on a cart outside of the building at your designated pick up time.

STEP THREE: Pick up your items.
• Holds will be on a cart by the library entrance. Your name will be on your item(s).
• Grab your item(s) and enjoy! Please keep your materials until the library reopens.
Pickups will be rescheduled if there is inclement weather.
If you need further assistance, library staff are here to help! Call us at 608-546-4201 or email askus@kraemerlibrary.org.