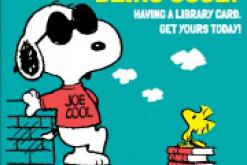 September is Library Card Sign-up Month, a time when the American Library Association and libraries nationwide join together to remind parents, caregivers and students that signing up for a library card is the first step towards academic achievement and lifelong learning.
A public library card is a ticket to free educational resources and activities such as homework help, digital workshops for all-ages, STEAM programs/activities, book clubs, family storytimes and game nights. A library card also provides access to a variety of digital media, including ebooks. Recent figures show more than 93 percent of public libraries offer ebooks and other digital content. According to OverDrive, more than 200 million checkouts of digital content at libraries is expected throughout 2016.
If you haven't been to your local library lately, September is a great time for a visit.
Since 1987, Library Card Sign-up Month has been held each September to mark the beginning of the school year to highlight the value of a library card. This year's Library Card Sign-up Month Honorary Chair is Snoopy, the world-famous beagle featured in the Peanuts comic strip, calling attention to the supportive role libraries and library professionals play in the education and development of children.